Great Ideas for Bridal Shower Games and Activities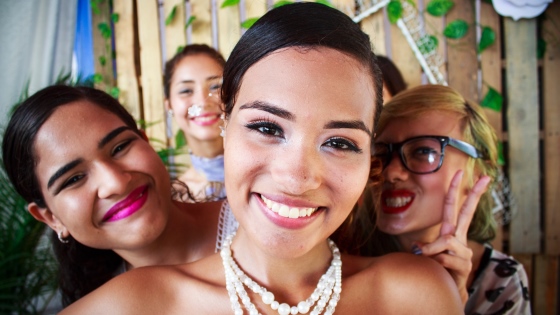 As we all know, bridal showers have customarily been a day to celebrate the bride-to-be as she prepares for the next major chapter in her life.  The bridal shower can be casual or more formal.  Regardless if the party is formal or casual, there are a variety of games and activities that are fitting for bridal showers.  Take a look at this list of Bridal Shower activities:
Pass the Champaign – Water will get everywhere with this game so playing outside is a good idea.  You'll need one plastic Champaign glass for each guest, one bucket filled with water per team, and one empty smaller container per team.  Place a row of buckets about 5 feet apart from each other on one side of the yard.  Then place a parallel row of empty containers about 20 to 30 feet away from the row of buckets.  There should be one empty container for each bucket.  Make equal teams of 2 to 4 people.  Each team will line up in a row between their bucket and their empty smaller container which can be a large bowl or large can.  Each small container needs to be the same size as one another yet smaller than the buckets.  The people closest to their team's bucket will fill up their glasses and pass the water from their glass to their closest teammate's glass.  Next, that person will pass their water to the next teammate in the same way until the last teammate in the row receives the water.  That last teammate will pour the water into the smaller container.  The rules are that every teammate must pass the water through their glass before it goes into the final container.  The team that overflows their container first wins.

To make it more difficult, one or more people can wear blindfolds on each team.  Because we aren't that mean, at least one teammate should be able to see in order to guide the others.  We recommend you record the fun from the sidelines so everyone can have a good laugh later.



Find the Guest – It's known as one of the best ice breaker games ever made.  This game politely pushes guests to get to know one another.  We recommend playing this game early during the party since it should help everyone get more comfortable with one another.  The group should be distributed a list of personal traits.  Guests need to find the guest that has a specific trait on the list such as "visited Australia during a cyclone."   The person that writes down the most correct guests next to their trait wins.



Clothespin Game – There are multiple versions of this game but the basics are the same.  Each guest will start off with 1 clothespin, sometimes with their own name on it.  The goal is simple, try to collect the most clothespins by the end of the bridal shower.  The way to get someone else's clothespin is to catch that person saying "bride" or the bride's name during the party.  Be careful though.  If you have a slip of the tongue and say a taboo word, you may be the one losing a clothespin.  For a fun twist, instead of clothespins, you could use necklaces, bracelets, or Ring Pops.


(Almost) Newlywed Game – How well does the bride really know the groom that she is about to marry?  If you enjoy a good laugh, this game should be included at the bridal shower.  Come up with a list of questions that may stumble the bride.  Questions should be like, "Which celebrity crush would your future husband want to use a one-time free pass on?" or "What is the groom's favorite body part on you?"  You can see how this can get embarrassingly funny for the bride.  Be sure to record the groom's answers earlier and play back the answers after each question the bride answers.  You're welcome.


Bridal Shower Bingo – Everyone is familiar with some form of this popular game.  You can find free printable Bridal Shower Bingo games online.  Most commonly guests are given Bingo cards right before the bride begins to open the gifts.  The cards have items the bride will likely receive as gifts and guests check off items as she opens them.  There are other versions of Bingo that may be played during the entirety of the party but this is the one you'll see most often.




He Said, She Said - Ask the bride and groom a series of questions that are not gender specific at least a day before the bridal shower.  Ask questions like, "What was the best date you went on together?" or "When did you know that you would marry each other?"  Record their answers on camera for more effect.  Make a list of quotes (from their answers) and print them out.  When ready to play, pass out the lists of quotes.  Have each guest choose whether the bride or groom said a quote.  Then playback the answer.  Person with the most correct answers wins.  It's not as easy as you may think to figure out who said it.


Cold Feet – Fill up buckets with ice cold water.  The colder, the more fun.  This is a messy game so playing outside may be a good idea.  Drop 10 plastic engagement rings into each bucket.  See who can take out all of the rings, 1 at a time, the fastest with only using their feet.  If you don't have a lot of buckets, you can rotate buckets and compare times to see who was the fastest.


Bride Trivia – You may be surprised how little many people know about the bride.  Pass out a list of questions to all of the guests that are not part of the bridal party or the bride's immediate family members.  You want to ask personal questions about the bride that include things such as her birthdate, pet names, and the spelling of her full name.  It's fun to find out how many people don't even know where the bride was born.  Warning, there will likely be a few friendly cheaters in the group especially after a few drinks.
Some other potential activities could be Bridal Scategories, Pictionary, Mad Libs, and sharing favorite memories guests have with the bride.  There are tons of games and activities to choose from.  Along with some classics, feel free to come up with your own creative activities.